The logistics industry has gone through a rough patch in recent years. Disrupted supply chains have triggered changes in the industry, resulting in companies rethinking their processes and increasingly experimenting with new information technologies. The digitization of logistics is therefore an essential component in order to achieve sustainable growth of companies. How is this sector evolving from an IT perspective?
The transition to Logistics 4.0 
Logistics 4.0 represents a new era in the logistics industry that seeks to take full advantage of the digital world. It combines modern technology with the aim of automating all logistics processes.
This is a challenge especially for the IT area, which is tasked with digitizing processes and ensuring seamless data collection, processing and evaluation. This ensures that the entire process is flawless and efficient – from order creation through to delivery to the customer. How is this segment being improved thanks to IT?
Automated Warehouse Management Systems (WMS)
This type of software guarantees minimal errors in the warehouse. Each shipment or box contains data with the necessary information. This helps manage planning, storage, dispatch, handling and inventory monitoring. New IT procedures can also personalise data outputs for workers, so that they only work with the data they absolutely need in order to do their job and can access it without any complications.
Global Positioning System (GPS)
Nearly everyone is familiar with this technology, but it plays an irreplaceable and slightly more sophisticated role in logistics. Thanks to it, you can not only see a detailed, real-time overview of where each shipment is located, but you can also view advanced data on the status of the shipment. This means that you know exactly what is happening with your shipment.
Electronic Data Interchange (EDI)
You can automate a whole range of processes, from sending orders for shipping to warehouse management and even customs clearance. With IT development, you can link this data to almost any department. And you can do this in a way that prevents outages and errors in their forwarding.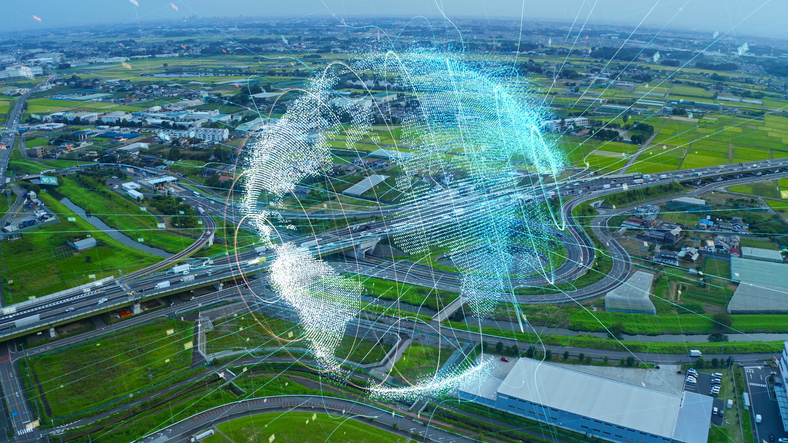 Ecology in logistics
Eco-friendly warehouses are one of the main technological trends that are coming to the fore.
The very use of robots in warehouses to sort and pack goods not only reduces labour costs, but also provides an additional hygiene measure by minimising the amount of human contact involved, making logistics safer. Because robots can work in the dark, you can also save on energy consumption.
Warehouse management systems (WMS) optimise the use of resources such as plastic, paper, electricity or petrol, which means reduced harm to the environment.
Green logistics trends include the use of solar panels, recycling areas, drought-resistant plants, low-emission paints or energy-efficient lighting.
Machine Learning (ML)
By using machine learning, you can get multiple predictions for your logistics chain. When do I need to replenish my warehouse? When to place orders? At approximately what time will the shipment arrive? What is the most efficient shipping method and route to choose? Machine learning can answer all these questions. All you need to do is connect it to a source of data, which it will collect and subsequently analyse.
All these technologies, however, require a solid and stable IT base, without which the whole system would function erratically. So the challenge for companies is to find stable IT partners who will be able to cover the entire infrastructure and connect the important areas. 

Ján Švantner
Where is logistics heading?
New IT technology allows us to respond more effectively to market needs. This means that the entire production or logistics process starts only when market demand arises. As a result, companies can move and redistribute their capacities.
This is again based on real-time data acquisition and evaluation. The aim of Logistics 4.0 is to bring together several areas and, with the help of appropriate information technologies, turn them into one interconnected ecosystem. What technologies are these? 
Big data
By this we mean complex data sets that will play a key role in logistics in the years to come. You will be able to make forecasts for the future primarily through the deployment of Big Data and the networking of all market stakeholders. This will help you anticipate potential threats and manage risk more effectively. There are a number of possible sources from where to gather such data:
Weather data
Traffic data
Vehicle diagnostics
Economic impacts
Information about the location of a vehicle
Data from the elements involved in the chain
5G and smart sensors
Easy access to Wi-Fi, Bluetooth and the Internet already allows us to connect to technology, people, computers and servers around the world. In computer science, this phenomenon is also known as the Internet of Things (IoT). This principle also forms the basis for the sensors or classic RFID chips that will be fitted to all logistics shipments, warehouses, truck cabins, cargo ships, planes and trains. The more powerful fifth generation mobile network (5G) will further expand the use of these sensors in logistics retailing, helping to make data available in real time. In a matter of seconds, your system will detect:
Technical issues during the transport phase
The temperature, humidity and other attributes of the shipment
The placement of the shipment and navigation through the warehouse